The Most Technologically Advanced Ozone Generators in the World
The EXT120 and EXT120-T Ozone Generators

Longevity's "All Digital" NEOS™ Technology and 100% Quartz Glass Electrode provides spectacular (and proven) Purity, Precision, Quality and Reliability. Proven high Quality comes to you in the form of QAI Certification to CSA and UL Standards, independent testing performed by QAI - "Quality Auditing Institute Laboratories". Longevity's CE Approval provides the Proof of Quality required by European customers. You should only ever have to purchase one ozone generator in your lifetime. The EXT120 and EXT120-T will provide you with that Lifetime of use. We've proven it.
(The EXT120 Ozone Generator is shipped around the world on a daily basis but is not available in Canada)

All digital controls outside; all digital components inside. Digitization of all processes and 100% Glass Electrode are the core of NEOS™ Technology. With no moving parts, no heat, and no metal nor contaminants in contact with the ozone no wonder it'll produce pure ozone for a lifetime!
Longevity's 100% Quartz Glass Electrode ensures the ozone never touches any metal, ceramic, plastic, rubber, glues nor resins that would otherwise contaminate the ozone. You receive just pure contaminant free ozone. We've proven it through 3rd party laboratory testing. After all, it's pure ozone you are after.
Isn't it ironic? Longevity's Ozone Generators use only 0.4 amps of power, the lowest in the industry, yet produce the widest range of ozone concentrations in the industry, with just one single electrode (two are not needed). That's the superiority of NEOS Technology, a low power cool ozone generating process that ensures your Longevity Ozone Generator will never suffer a 'burn out' and WILL last a Lifetime!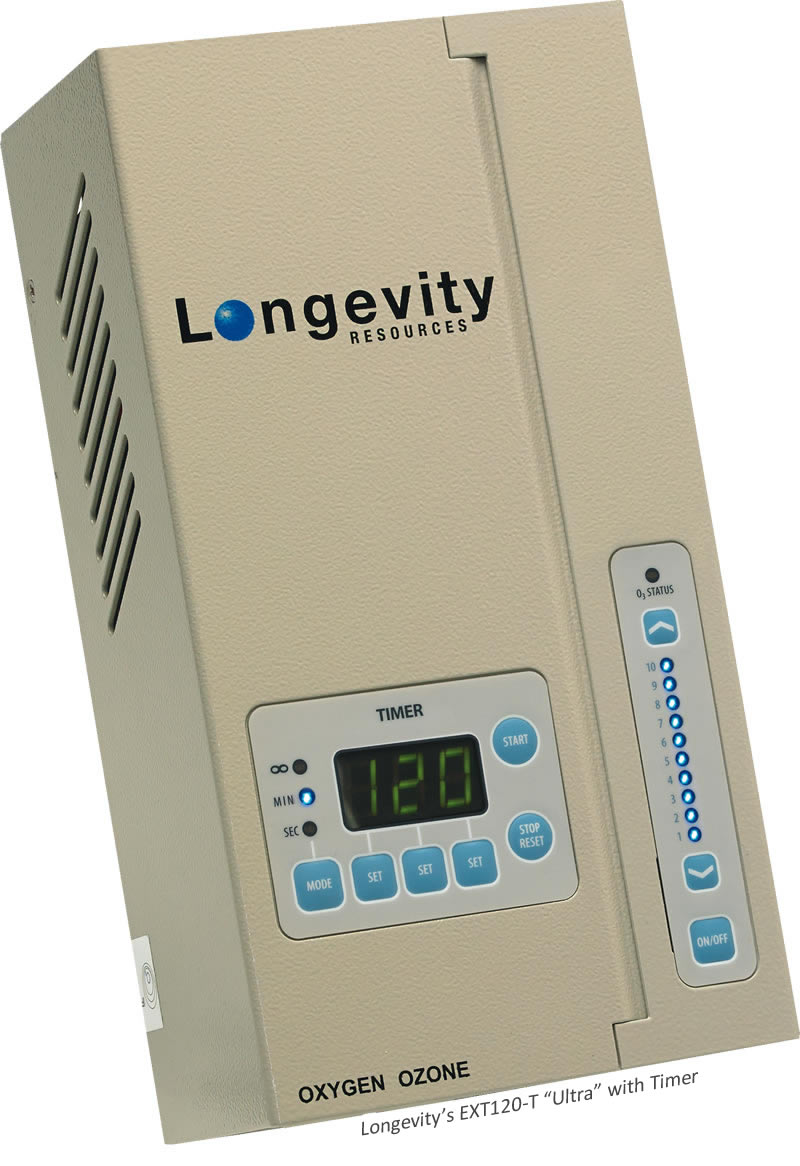 Mighty Ozone in a small box. The EXT120 Ozone Generator produces the widest range of ozone concentrations in the world at <1 ug/ml to 120 ug/ml and 90 choices within that range, all while remaining cool and with just one single Quartz Glass Ozone Electrode. Superior technology indeed.
Longevity's All Digital and Cool NEOS™ Technology ensures your EXT120 Ozone Generator can plug into any country's electrical supply...it can run on 100 - 250 volts, 50 or 60 Hz. This is the ultimate convenience for international customers and those on the move who wish to take ozone with you.
In 1995 Longevity Engineers set out to build Ozone Generators that could last a Lifetime. Today...Longevity Ozone Generators are still in use 25+ years after they were purchased. I guess we got it right! Now THAT's Reliability and Quality! Buy just one Longevity Ozone Generator and buy another only if you need to expand your use of ozone. Now THAT's value!
EXT120 and EXT120-T "ULTRA" Ozone Generator Packages

Pre-Chosen EXT120 Ozonation System Packages for all of your Ozone requirements. Choose them "as is", customize them by removing items,
or add any items you like from our extensive list of Ozone Accessories to create an ozone system that exactly meets your needs and your budget.
(These packages are available to everyone around the world but are not available in Canada.)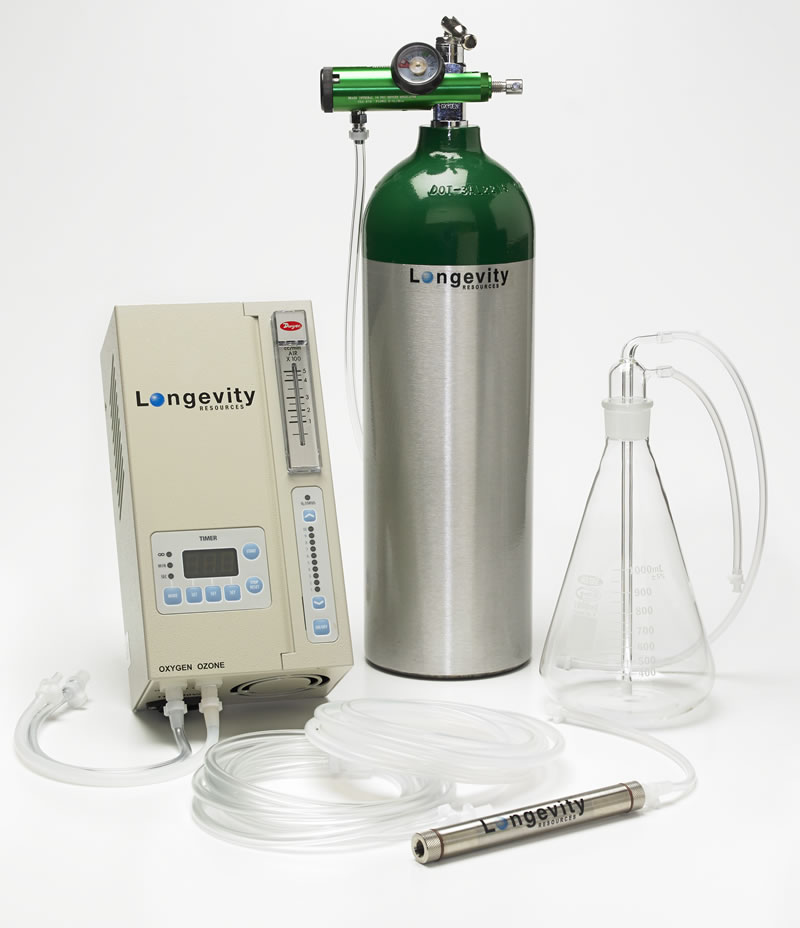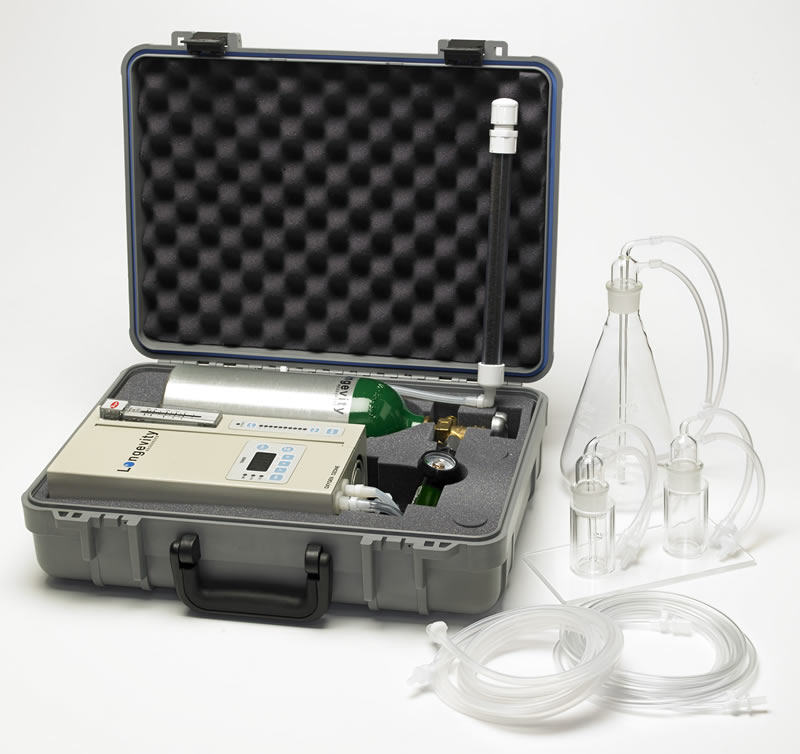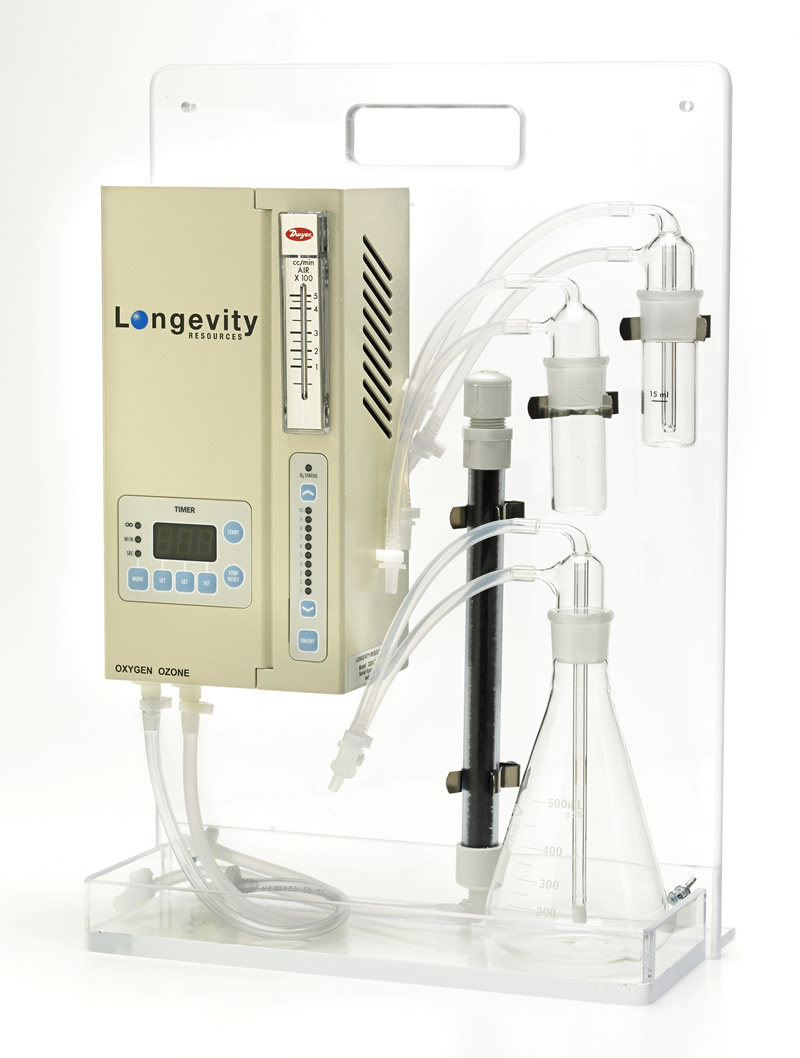 EXT120 and EXT120-T ULTRA Benefits
EXT120 Ozone Generator Benefits

The EXT120 Ozone Generator, with NEOS Technology, is in a class by itself. This fully modernized all digital Ozone Generator produces the widest range of ozone concentrations in the world, is QAI.org Inspected, Tested, and Certified to CSA and UL Standards, and comes with a Certificate of Proven Ozone Purity. Compare it to others on the market and you'll find that there is no match for the EXT120 and EXT120-T Ultra Ozone Generator.
Proven: Pure Contaminant Free Ozone. Longevity Ozone Generators are the only ones in the world that come with a Certificate of Purity of the Ozone. Our 100% Glass Electrode ensures the ozone never metal, ceramics, plastics, rubber, nor glues nor resins that exist in other ozone generators, materials that would otherwise add contaminants to the ozone. This is why Longevity Ozone is uniquely pure and contaminant free!
Proven: Precise Ozone Concentrations. Each Ozone Generator arrives with a Certificate of Precision and a Precision Ozone Output Chart, precise down to 0.1 ug/ml (the most precise in the world). The Output Chart is created using the oxygen regulator that comes with the ozone generator to ensure ultimate precision.
Proven: High Quality through a 20 year reputation of proven reliability. PLUS rigorous inspections are performed on Longevity ozone generators by an independent laboratory company called QAI (Quality Auditing Institute). Longevity's ozone generators passed these rigorous tests earning them Certification to North American CSA and UL Standards. The EXT120 and 120-T "ULTRA" are also Certified to CE Standards for Europe. Clearly you can make this purchase with Confidence.
0.5 ug/ml ("micro" Ozone) to 120 ug/ml; over 90 choices within that range. The EXT120 Ozone Generator uses NEOS™ Technology to produce the widest range of ozone concentrations in the world. Rest assured the EXT120 will provide ozone for every protocol you wish to perform!
All digital NEOS™ Technology Silent Pulse Injection is the most advanced in the world, a low power (only 0.4 amps) 'cool' process that generates pure ozone, and no heat. The 100% Glass Electrode, yes a single electrode, produces more ozone than any "double electrode" ozone generator, displaying clearly superior technology. Longevity's Proof of Purity test proves we provide the purest ozone in the world.
Nothing could be easier. Longevity offers our Lifetime Warranty on each ozone generator PLUS Legendary Lifetime Customer Support via our Toll Free telephone service and via email. Longevity's highly trained customer support staff are friendly, happy, and ready to help you to set up or use your Longevity ozone system.
The EXT120 and EXT120-T Ultra are light, all digital, small and compact at 11"L  x 6"W x 4.5"D (280mm x 145mm x 110mm). They easily fit on any counter top, laboratory bench top, and can even be hung on the wall and fit into Longevity's handy briefcase. At only 4 pounds the EXT120 is easily moved from room to room or place to place with ease.
The EXT120 is available by itself (for those who already have ozone accessories), plus Basics, Essentials, and Complete Ozone System Packages. Choose an optional Plexiglas Stand for wall mounting or in a briefcase for easy carrying and storage. Want to custom create a package to fit your budget and needs? Our Product Specialists would be pleased to help you do that! Call us for information or email.
The EXT120 is conveniently capable of accepting "Universal Voltages" of 100 - 240 volts, 50 and 60 Hz. Regardless of which country you live in you can plug it directly into the wall socket. For those "off the grid" low power of less than 0.4 amps means it will fit into your lifestyle (and will never heat up).
Remember the Proven Quality section above that mentions QAI Approval? Well QAI also tests the ozone generators rigorously to ensure they are SAFE for everyone to use. QAI (Quality Auditing Institute) PROVEN Safety and Quality proves to you that you are purchasing the "Best in Class" product even before you receive it. How comforting is that!
The attractive tan colored powder coated metal cabinet not only protects the ozone generator components inside, but also protects you from EMF fields. The EXT120 is therefore not only high quality and good looking but proven to be Super Safe too! Simply another reason to trust Longevity's phenomenal high quality and QAI Approved Ozone Generators for all of your ozone needs.
EXT120 and EXT120-T ULTRA Specifications
Call or Email Longevity Today for More Information, Pricing, and to Purchase
Longevity Staff are "Product Specialists" not "Sales Agents". They are here to answer questions and guide you to the products that suit your needs, and your budget. Just friendly discussion that we guarantee you will enjoy. This is what we call our Legendary Longevity Service that people have loved for over 20 years.