The Most Technologically Advanced Ozone Generators in the Industry
The Quantum 5 Ozone Generator

Longevity brings you an advanced NEOS™ Technology driven Ozone Generator for Proven Purity (you'll receive the report), "Industry Best" Precision and Proven Quality through QAI (Quality Auditing Institute). Hands down the leading ozone generator in the North American and World Ozone Industry.
Sleek, tidy, like scientific equipment should be. The Quantum 5 Ozone Generator will complement any scientific environment with subtle elegance. Futuristic in every way, you can't help but stare.
"On Demand" Ozone Port on the front panel releases ozone only when you push the "Port Control" switch or depress the Remote Control Foot Pedal (for hands free operation). The Internal Ozone Destruct destroys ozone internally when the system is 'idling'.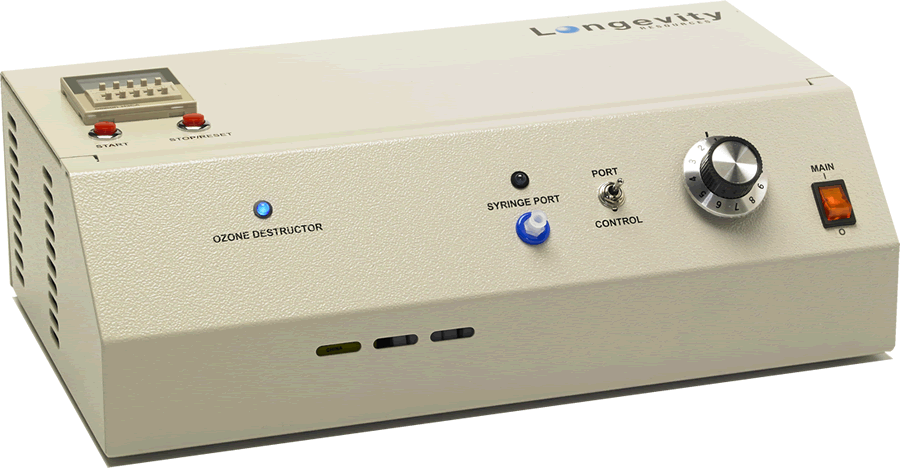 ...Proof of Pure Ozone provided on our Purity Report, Proof of High Quality (25+ Reputation for Reliability), QAI.org Tested and Certified to CSA and UL Standards, Proof of Ozone Concentration Precision. Yes..Breathe a sign of relief with Longevity Ozone Generators! 
In 1995 we set out to build Ozone Generators that last a Lifetime. Today...Longevity Ozone Generators are still in use 25+ years after they were purchased. Now THAT's Reliability and Quality! Buy one ozone generator, then buy another only if you need to expand. That's Value!

CONFIDENCE, SAFETY, AND EASE OF USE
Longevity's QUANTUM 5 OZONE GENERATOR Provides the most advanced ozone technology in the world today at a price that is within easy reach of any professional. LONGEVITY'S unique Quartz Glass Electrode Guarantees "ULTRA PURE OZONE" in the range of 1ug/ml to 120 ug/ml, the widest range in the world. Proven Purity, Proven Quality, and Proven Precision...you'll find it all in the Quantum 5 Ozone Generator.
Safe, easy, accurate delivery of the ozone is guaranteed by the front panel mounted "On Demand" Ozone Output Port. You control the release of the ozone using the panel mounted Toggle Switch. When precision volumes of ozone are required, the Port allows the direct attachment of a Luer Lock style syringe. Simply attach the Syringe, flip the switch, and watch as the syringe fills itself to the desired volume. Releasing the switch stops the ozone flow and directs it to an 'On-board' Ozone Destruct Unit which will then destroy any ozone gas that is being created to ensure that none of that gas enters the room around you. If you need to transport a higher volume of gas to another location, simply attach and fill a higher volume ozone resistant bag, or, simply attach an ozone resistant silicone hose to the Ozone Output Port and direct the ozone right to the place where you need it.
The Quantum 5 is manufactured in North America using North American Components, design, and workmanship. By combining the unique qualities of leading edge design and engineering, the highest quality components available in the world, and manufacturing in our QAI (Quality Auditing Institute) inspected factory setting, Longevity Resources Inc. has once again set the "Gold Standard" for quality ozone systems. No wonder Longevity ozone generators have the reputation of running reliably for over 20 years!
We display our commitment to quality and safety with our Proven Quality Approval (through QAI) to CSA and UL Standards, our Proven Purity Test, and our Proven Precision. We display our commitment to you the customer through our Lifetime Warranty, and our phenomenal reputation for providing unequaled Customer Support. You'll be happy you teamed up with Longevity!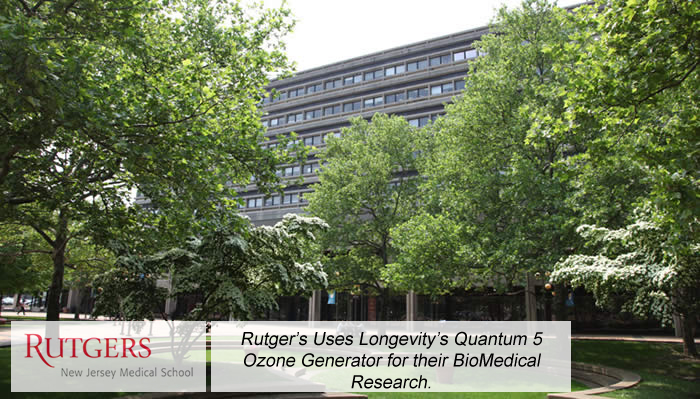 Check Out These
PHENOMENAL BENEFITS AND PHENOMENAL FEATURES
A 20+ Year industry reputation for reliability and the best Testimonials in the industry. Rigorous testing and inspections by an independent laboratory QAI.org and Certified to North American CSA & UL Standards. Further testing certified to European CE Standards! Without a shadow of a doubt you know the Quantum 5 Ozone Generator is extremely high quality and reliable. 
All companies are claiming that their ozone is pure. Do they have proof? Longevity is the only company, in the world (!) to prove that our ozone is pure! Independent laboratory testing proves, without a doubt, only the highest level of purity. This level of purity is only possible due to the fact that only Longevity uses a 100% Quartz Glass lined Electrode which ensures the ozone never touches any metal, ceramic, rubber, plastic, glues, resins, nor any other material that would otherwise contribute contaminants to the ozone gas.
Each Quantum 5 Ozone Generator is tested for Ozone Output using the Oxygen Regulator that is being provided with the ozone generator. This gives the Ozone Output Report an unequaled level of precision, taking into account that no two Oxygen Regulators are identical. Premium Ozone Technology (see below) ensure that you can trust that the Ozone Concentration levels will remain accurate long term.
100% QUARTZ
GLASS ELECTRODE
International Experts at the ISCO3 (International Scientific Committee of Ozone) state publicly that the "Best material from which to make ozone electrodes is Quartz Glass". Ozone destroys all metals, ceramics, plastics, rubber, glues, resins and the byproducts of that destruction contaminate the ozone. Quartz Glass is 100% ozone resistant which enables us to avoid all contact with those other materials and guarantee you Pure Ozone!
Longevity is committed to providing you with only the highest quality electrical components coupled with state of the art circuit designs to create NEOS Technolgy - the most advanced ozone technology available in the world today. This magic combination of quality components and cutting edge design ensures reliable worry free operation of your ozone system for many years to come. That's the Longevity way!
ON DEMAND
OZONE OUTPUT PORT
Longevity's Quantum 5 and Quantum 3 are the only North American ozone generators on the market with "On Demand" Ozone Output Ports. No ozone escapes the port until you activate the port by depressing the Toggle Switch, or by activating the Remote Control Foot switch. Whether you are filling a syringe, a bag, or sending the ozone to the destination through attached tubing, YOU are in complete control!
FULL RANGE
OZONE CONCENTRATIONS
The Quantum 5 Ozone Generaotor offers the widest range of ozone concentrations in the world providing over 90 choices of "Micro Ozone" levels of less than 1 ug/ml through to an amazing 120 ug/ml ozone concentration. Rest assured you will be able to perform any ozone protocol from anywhere in the world. 
After more than 20 years in business, you can certainly earn a reputation! Longevity is known for "Legendary Customer Support". Our focus on providing clear, friendly, customer support has earned us the reputation of taking exceptional care of customers. You are not alone, as our Customer Support Team are always here to assist you with your questions with no expiry date, and no charge.
Longevity includes a Lifetime Warranty on our 100% Quartz Glass Electrode against any burn out or manufacturing defects, plus a 5 Year Warranty on all other electrical components. With ozone generators on the market that have been operating reliably for over 20 years without fail, you know you can trust a Longevity ozone generator to serve you well.
Phenomenal
QUANTUM 5 OZONATION SYSTEM PACKAGES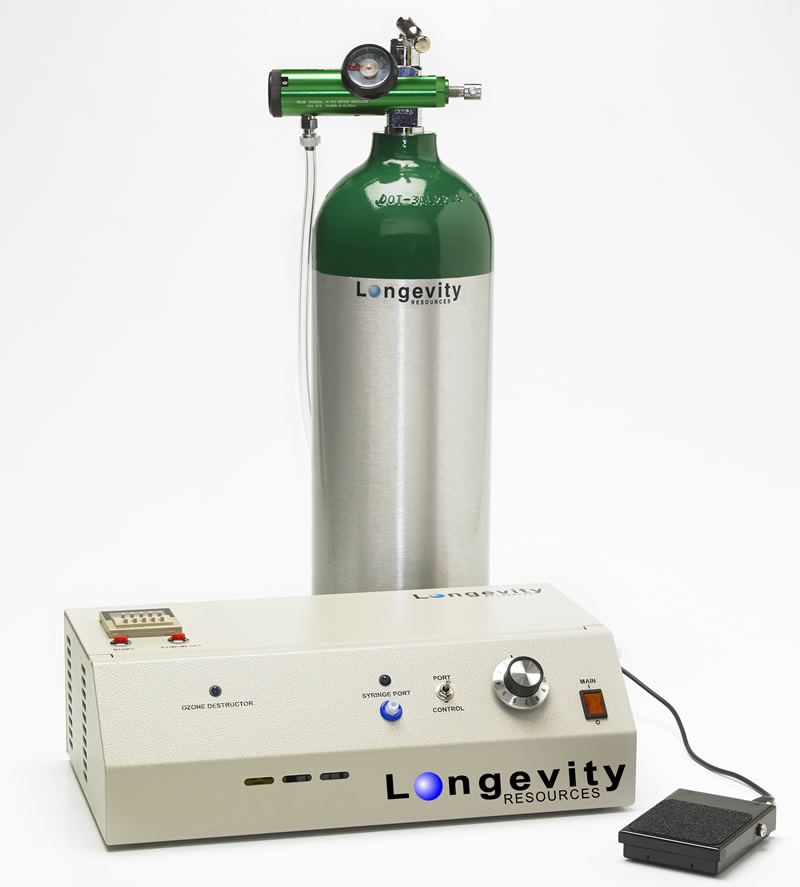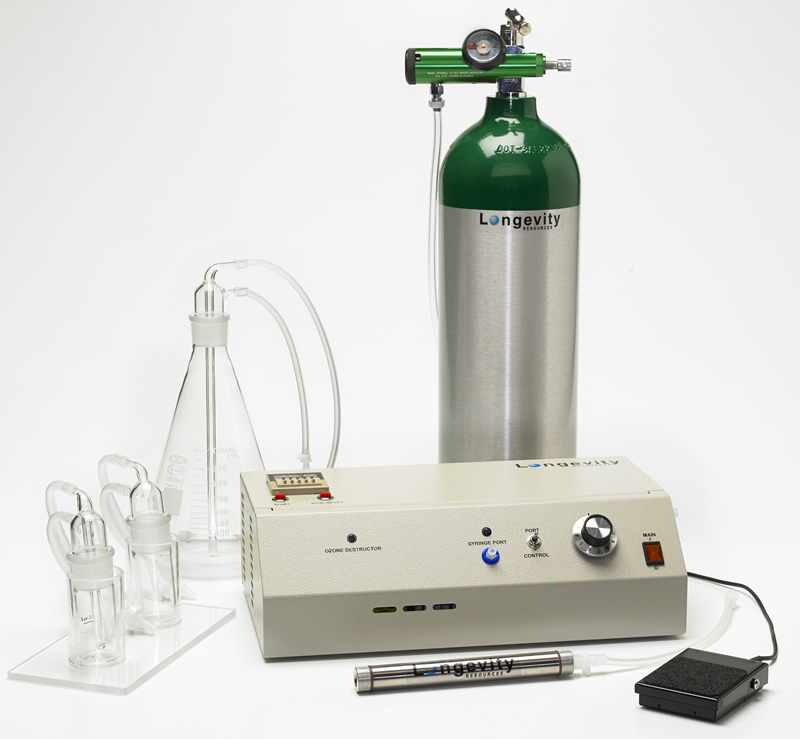 Call or Email Longevity Today for More Information, Pricing, and to Purchase
Longevity Staff are "Product Specialists" not "Sales Agents". They are here to answer questions and guide you to the products that suit your needs, and your budget. Just friendly discussion that we guarantee you will enjoy. This is what we call our Legendary Longevity Service that people have loved for over 20 years.