The Key to a Long, Energetic, Healthy Life Is:
"On Demand" EWOT Systems
By Longevity Resources Inc.
ATHLETES...
Here...Hand Delivered...Your Natural Way to Become Extraordinary!
Use "OnDemand" EWOT™ (Exercise With Oxygen Training) to overcome that plateau, get ahead of the competition. 
How? You need more energy. "OnDemand" EWOT™ enables your cells to absorb as much oxygen as possible, and therefore produce as much energy as possible. You are stronger, faster, unstoppable...
Become Extraordinary!
HOME USERS...Weekend Warriors & Baby Boomers
Use "OnDemand" EWOT to Regain Your Energy...Get Up and Go!!
German Research has proven there is a specific reason why our energy levels drop as the years go by, a physiological change in energy production as we age.
They also proved that EWOT-Exercise With Oxygen Training can reverse that change to help you maintain or regain the energy and stamina of your youth. They go so far as to claim we can slow the aging process itself.
Longevity's "OnDemand" EWOT Systems duplicate the equipment and conditions researched by the Germans, to provide you with true "OnDemand" EWOT. What's "OnDemand"? Oxygen right now, instantaneous, when you need it (no waiting for a bag to fill).
Exercise With Oxygen and change your life to be bursting with energy and excitement. Beat the aging process and have fun. Be extraordinary and leave your bored friends inside as you roam, explore, and live your Energetic Life!
Contact Longevity today and start your new life now!
Regain or Maintain Your Youthful Energy and Health with EWOT
Why Longevity's "OnDemand" EWOT Systems are right for You!
EWOT  is "Exercise With Oxygen Training"...which is exactly as it sounds. You breathe oxygen while you exercise on a stationary bicycle, treadmill, elliptical, re-bounder, or any one of a dozen other stationary exercise machines. German Researchers proved in the 1970's that this has profound benefits. Longevity Resources Inc. introduced EWOT into North America in 2001 and remain the leader in EWOT equipment.
The problem is that most EWOT Systems on the market today include a "Reservoir Bag" that needs an hour or two to fill with oxygen. That's simply too long! What if you want to exercise right now, start and finish in 15 minutes before work with no waiting?
Only Longevity's "OnDemand" EWOT™ Systems provide you with INSTANT OXYGEN, Right Now, no bag to fill, no waiting, ready when you are! 
What does Longevity's "On Demand" EWOT™ System Include?
 1. Two of Longevity's Specialized "On Demand" EWOT™ Masks. Longevity duplicated the type and style of mask that was used by the German Scientist Manfred von Ardenne when he PROVED that EWOT works. No other company in North America has Longevity's "On Demand" EWOT™ Mask, Longevity Resources is therefore the only company with a true "On Demand" EWOT System that works!
 2. Extremely High Quality and Reliable OxyMax Oxygen Concentrator. The OxyMax produces the purified oxygen for you. In use by thousands of people using EWOT since 2001, the OxyMax has earned reputation of being high quality, and highly reliable.
 3. A "Bubble Humidifier" to 'humidify' the oxygen before you breathe it, plus all of the tubing and detailed instructions.
Longevity has the "On Demand" EWOT System that will change your life. Are you ready? 
Check out Longevity's "OnDemand" EWOT™ Packages below, all in stock and ready to ship to you today!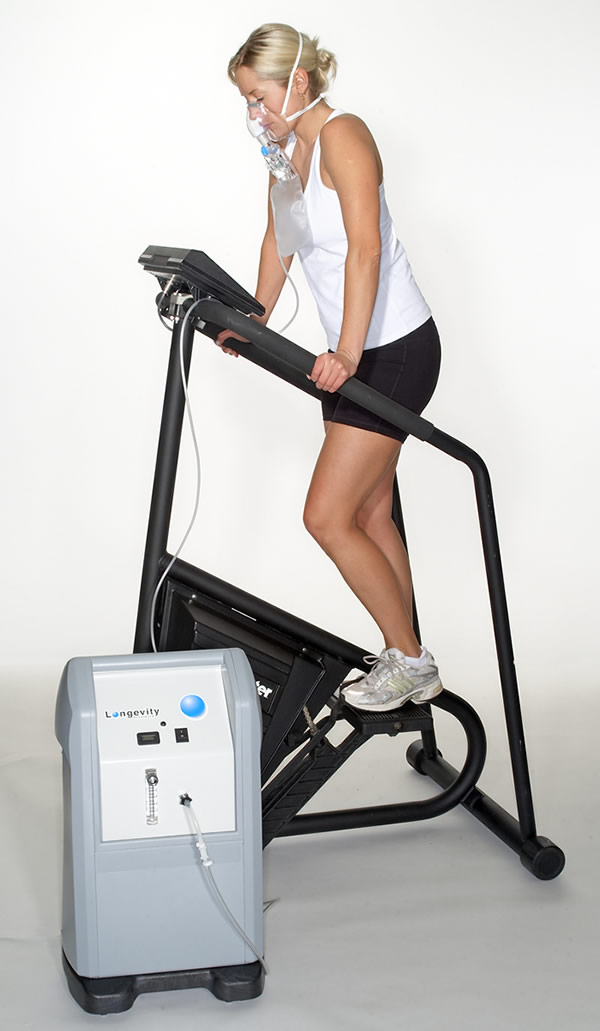 "On Demand" EWOT Systems
Reach Your Personal Peak
with "OnDemand" EWOT™ from Longevity Resources Inc.
What are you waiting for?
Get Started..."OnDemand" EWOT Today!
Talk to a Longevity Product Specialist. Your New Life of Energy Starts Today!
Call or Email Longevity Today for More Information, Pricing, and to Purchase
Longevity Staff are "Product Specialists" not "Sales Agents". They are here to answer questions and guide you to the products that suit your needs, and your budget. Just friendly discussion that we guarantee you will enjoy. This is what we call our Legendary Longevity Service that people have loved for over 20 years.